Navios Maritime Orders VLCC Newbuilding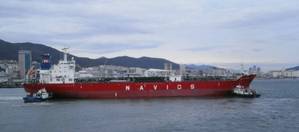 Navios Maritime Acquisition Corporation said that it has exercised its option for a third VLCC newbuilding under a bareboat operating lease with an expected delivery in the third quarter of 2021.

Navios Acquisition has agreed to the main terms of a 12-year bareboat charter-in agreement with de-escalating purchase options for one newbuild Japanese VLCC.

The bareboat charter-in agreement reflects an implied price of approximately $84.5 million and an annual effective interest of approximately 6% fixed for the duration of the agreement.

On March 25, 2019, Navios Acquisition sold the C. Dream, a 2000-built VLCC vessel of 298,570 dwt to an unaffiliated third party for a sale price of $21.8 million. The gain on sale of the vessel amounted to $0.7 million.

In April 2019, Navios Acquisition sold the Shinyo Ocean, a 2001-built VLCC vessel of 281,395 dwt to an unaffiliated third party for a sale price of $12.5 million.

Unrepaired damages plus expenses incurred since the incident covering the fair market value of the vessel are recovered by insurance (subject to applicable deductibles and other customary limitations).

In March and April 2019, Navios Acquisition entered into sale and lease back agreements each for $103.2 million in order to refinance $50.3 million outstanding on the existing facility on three product tankers and to finance two product tankers for which their previous credit facility was fully prepaid in March 2019 in an amount of $32.2 million.

The agreements will be repayable in 28 equal consecutive quarterly installments of $2.3 million each, with a repurchase obligation of $39.7 million on the last repayment date. The agreements each mature in March and April 2026 and bear interest at LIBOR plus 350 bps per annum.


May 13, 2019