CR Ocean Engineering Wins Multi-Scrubber Deal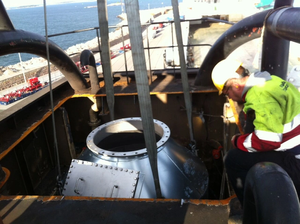 Glasgow based Songa Shipmanagement Ltd. selected CR Ocean Engineering, LLC, as the supplier of exhaust gas cleaning systems for its oil/chemical tankers and Heavy lift vessels, with options for more.

The Scrubbing Systems will enter commercial operations commencing in the late summer 2018 and go on throughout the beginning of 2020.

In addition to the existing 0.1 percent sulfur fuel Emission Control Areas (ECAs) in Europe and North America, starting January 1, 2020, the rest of the world will need to reduce the sulfur fuel emissions (and associated emissions from their marine engines and boilers) to 0.5 percent sulfur from the current 3.5 percent. As with the 0.1 percent sulfur ECAs, the global 0.5 percent ECA will present shipping companies to with the choice of using the more expensive lower sulfur fuel or use alternate technologies such as scrubbing systems.

Allied Shipbroking called Marine Scrubbing technology, the "fastest and cheapest" way to reduce harmful diesel fuel emissions to meet the stringent International Maritime Association (IMO) compliance requirements for the shipping industry scheduled to go into effect in 2020.

Due to the small size and compact configuration of the CROE system they can be installed in new builds or retrofitted to existing vessels. CROE is a family owned business with roots dating back 100 years, headquartered in New Jersey.

May 16, 2018