HMM to Order 20 Mega Containerships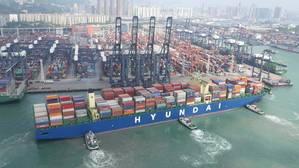 South Korea's largest shipping line Hyundai Merchant Marine (HMM) announced it will order 20 new containerships, including eight 14,000 TEU vessels and 12 ships above 20,000 TEU.

The announcement comes less than a week after the South Korean government unveiled its Five-year Plan for Rebuilding Korean Shipping.

HMM said it has sent a request for proposal (RFP) to eligible shipbuilders. Once a builder is selected, HMM will decide between scrubbers or liquefied natural gas (LNG) bunkering in order to comply with the environmental regulations due to enter force in 2020.

The larger vessels will be deployed on Asia-North Europe routes while the 14,000 TEU ships will serve the U.S. East coast trade.

"Through this new shipbuilding, HMM will be able to secure stronger fleet competitiveness with the benefit of economies of scale. Furthermore, it will help HMM to form a stable basis for making profits in the intensely competitive market," the company said in a press release.
Apr 10, 2018