Panama Canal: Advisory to Shipping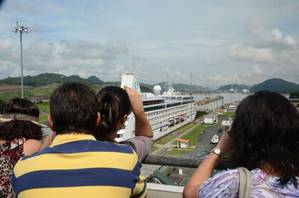 All Shipping Agents, Owners, and Operators advised as to Scheduled Culvert Maintenance at Gatun Locks.
Beginning at 0600 hours on Monday, August 26, 2019, until 0600 hours on Friday, September 6, 2019 (10 days), the center wall culvert of Gatun Locks will be out of service for scheduled maintenance. During this culvert outage, both lanes will remain in service, but due to the slower filling and emptying of the chambers, lockages are expected to take longer than usual.
As a result, and in accordance with the rules governing the Transit Reservation System (NT Notice to Shipping No. N-7-2019), Condition 1.a for the Panamax locks will be in effect from Monday, August 26, 2019 to Thursday, September 5, 2019.
Applications for reserved transits while Condition 1.a is in effect will be received beginning at 0900 hours on Friday, August 23, 2019. The Just-In-Time (JIT) transit slots available for supers will be reduced to one for each direction while Condition 1.a is in effect, whereas the JIT slots for regular vessels transiting without restrictions will remain at one for eachmdirection. The booking slot available through the auction process, as well as the slots available for regular vessels less than 300 feet in LOA, and the slots for Neopanamax vessels, will continue to be offered during this period.
This document is cancelled for record purposes on September 30, 2019.
Aug 23, 2019