The Poseidon Principles: De-carbonizing Global Shipping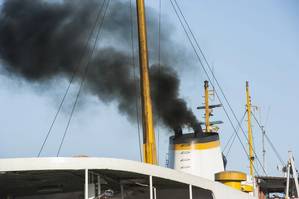 The Global Maritime Forum, banking institutions and other maritime industry stakeholders have developed the Poseidon Principles, a global agreement among financial institutions with the aim of decarbonizing shipping. Named after the Greek God of the sea, the Poseidon Principles aim to reduce carbon emissions by aligning financial institutions' shipping portfolios with (IMO target of a 50 percent reduction in emissions by 2050. The global framework will establish a common way of assessing and disclosing whether a bank's lending portfolio is compatible with broader climate goals.

Søren Toft, chief operating officer of A.P. Møller-Mærsk, commented: "To deliver on ambitious climate targets, zero-emission vessels will need to enter the fleet by 2030. This leaves us only ten years to develop the new marine fuels, propulsion technologies and infrastructures that will be required. The Poseidon Principles will help us catalyze this transition."

Dr Tristan Smith, reader in energy and shipping at UCL's Energy Institute and a member of the advisory council of the Global Maritime Forum, added: "The Poseidon Principles are a mechanism to try and incorporate long-term risk within the shorter-term time frame in which mortgages and loans are established and reviewed by financiers."

The founding signatories of the Poseidon Principles include Citi, Societe Generale, DNB, Amsterdam Trade Bank, and Danske Bank.
Sep 17, 2019