Possible Meteorite Fragments Found in Marine Sanctuary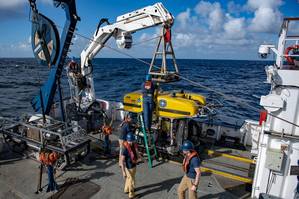 In the first ever intentional hunt for a meteorite at sea, researchers set out to investigate the largest recorded meteorite to strike the United States in 21 years. They recovered from the ocean what are believed to be pieces of the dense, interstellar rock.
The golf cart-sized meteorite crashed into NOAA's Olympic Coast National Marine Sanctuary on March 7 around 7:15 p.m. PST, about 15 miles off the Washington coast. Despite having broken into many pieces before falling to the sea, its impact was so violent it registered on seismometers as far away as Manitoba, Canada. The cosmic burst, picked up by NOAA's NEXRAD weather radar, created a giant fireball called a bolide, as well as a sonic boom, but no tsunami.
A group of scientists from NOAA, NASA and the Ocean Exploration Trust (OET) working with the 64-meter research vessel E/V Nautilus used an EM302 multibeam sounder and subbottom profiler to first map the site of impact, and then recover parts of the meteorite with the help of a remotely operated vehicle (ROV) capable of diving to depths unreachable by human divers. The meteorite debris field was found about 16 miles offshore, lodged in the seafloor's mud and sand, in waters about 350 feet deep.
Dr. Marc Fries, NASA's curator of cosmic dust, said the search - which included the use of a specially designed magnetic rake - yielded two small fragments, each about two or three millimeters in diameter. Scientists have taken the samples to a laboratory to confirm they are, in fact, fusion crust meteorite exterior, the melted pieces of rock from the outer layer of a meteor. More fragments might be found based on further examination of what's been recovered so far.
Based on radar data, the meteorite weighed two tons with fragments as large as 10 pounds. Suspected fragments of the meteorite are scattered over an area in the southwest part of the sanctuary near the rim of Quinault Canyon.
After passing through the atmosphere, about 1,415 pounds of the space rock fell into the sanctuary - larger than the 2003 Park Forest, Ill., meteorite, which had previously held the record for the largest meteorite to hit the U.S.
The fragments collected will be analyzed further to confirm they are meteorite material and then rinsed several times in deionized water prior to being shipped to the Smithsonian Museum of Natural History in Washington, D.C., to potentially become part of their collection.
Jul 12, 2018