Real-time Sonar Fit onto US Navy Minehunting AUV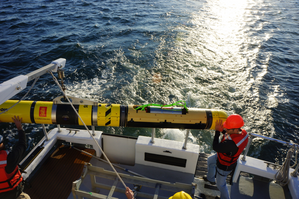 A real-time synthetic aperture sonar (SAS) system has been integrated and tested on board a U.S. Navy autonomous underwater vehicle (AUV) that will perform minehunting duties for the Naval Undersea Warfare Center in Rhode Island.
The AUV, a fully modular REMUS 600 manufactured by Kongsberg Maritime subsidiary Hydroid, was designed through funding from the Office of Naval Research to support Naval operations requiring extended endurance, increased payload capacity and greater operating depth, such as minehunting.
The AquaPix MINSAS SAS, developed by Kraken Robotic Systems Inc., provides the capability for "real-time, ultra high-resolution imaging and 3D mapping of the seafloor," said Karl Kenny, president and CEO of the developer's Canadian parent company Kraken Robotics Inc.
"We expect this technology will revolutionize the way in which big data from Synthetic Aperture Sonar imagery and bathymetry is processed," Kenny said.
The best method to detect and classify underwater mines involves obtaining ultra high-resolution target data that will quickly provide more details on the object from long ranges.
For several years, researchers have worked toward enabling autonomous AUV minehunting through machine intelligence and automatic target recognition. Kraken said that migrating these algorithms and behaviors to operate on board the AUV in real-time holds the potential to significantly increase the speed and accuracy of mine countermeasure missions.
Acquiring and processing raw data from sensors to derive actionable intelligence remains a challenge. According to Kraken, the key is an AUV's capability to create and process high resolution sonar data on board in real-time. As detailed acoustic images are created and analyzed on-the-fly by the vehicle's computers, the AUV can then decide the best way to continue the mission.
Additionally, at least 5cm of target pixel resolution is required for effective minehunting, which Kraken said can be achieved by conventional side scan sonars, although only from short range, typically limited to less than 25 meters. SAS, on the other hand, can achieve 5cm of target pixel resolution to ranges of more than 250 meters, providing up to 10 times the range and area coverage rates.
"The major concern of mine countermeasures is to keep sailors far away from the mine threat while having a high level of confidence in the detection and classification of possible threats," Kenny said.
"Real-time SAS signal processing onboard an AUV is a significant step forward from the current approach. Kraken's real-time SAS can increase safety, improve operational efficiency, reduce the mission risk of missing mines and significantly reduce and/or eliminate post mission analysis time."
Jan 11, 2018