REINTJES Launches New Hybrid Step-up Gearbox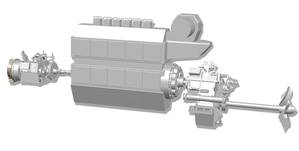 Power train specialist REINTJES will demonstrate its new BAE HybriGen Zero system at the Offshore Technology Conference (OTC) in Houston.
The recently developed hybrid step-up gearbox for retrofit offers reduced operating costs, reduced emissions and reduced maintenance costs, REINTJES said.
This latest product line in REINTJES' portfolio features a front-engine mounted gearbox combined with a permanent magnetic electric generator up to 300 kWe. With its high torque, this electric motor/generator can also be used as a starter to substitute the air-starting system. Furthermore the usage of the PTO provides the possibility to switch off the onboard gen sets during operation.
The system comes with an electric motor of BAE Systems as well as the gearbox with the following components by REINTJES: integrated multi-disc clutch, flexible coupling on input side, bell housing for direct generator mount and shaft for direct engine connection.
REINTJES believes that hybrid solutions will also be an innovative feature in future offshore vessels, therefore besides its new developed step-up gearbox, REINTJES will also expand its existing Hybrid System "RHS" (REINTJES Hybrid System) for new buildings in a green manner. Battery packs will round off the existing scope of gearbox, electric motor, frequency converter and remote controls.
Apr 28, 2017