Rolls-Royce Unveils Stabilizer for Ice Class Ships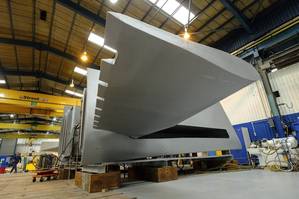 The latest version of Rolls-Royce stabilization systems adds the potential for ice class ships to benefit from the company's Stabilization-at-Rest (SAR) concept.
The SAR system, incorporated to both the Aquarius and Neptune ranges of Rolls-Royce retractable stabilizers, employs active fin control technology and advanced hydrodynamic design to deliver higher levels of roll reduction when the vessel is at rest, and also maintaining stabilization performance while underway.
In the new design, the stabilizer fins can be fully retracted into the custom-designed fin box, so there are no protrusions from the hull form, ensuring safe navigation through ice.
The new design has a reduced fin area and optimized lower fin angle which meet the stabilization performance requirements. The new design also reduces dynamic drag when deployed underway which leads to lower fuel costs. The stabilizer fin incorporates the Rolls-Royce trailing edge design which eliminates vibration and noise.
Martin Cunningham, Managing Director, Rolls-Royce Motion Control Dunfermline, said, "The one-piece fin construction offers simple maintenance, reducing through-life cost. The fin shape is designed to improve zero speed performance, as more chord is behind the fin centerline."
"This is achieved because the ice class SAR system is based on the well-established Rolls-Royce Aquarius and Neptune retractable stabilizers. Both initial and operational costs are minimized due to the units being easily installed, the fin box custom-designed to exactly match the ship's hull profile, small hull opening and a simple reliable design."
Recognizing that the Rolls-Royce ice class SAR stabilizers are likely to be employed on vessels sailing in environmentally sensitive areas, a special quad seal arrangement ensures minimal risk of leakage, and the machinery is fully compatible with a wide range of EALs (environmentally acceptable lubricants).
"The sealing arrangement and compatibility with EALs mean the ice class SAR systems meet the requirements for VGP Permit vessels, while the low drag results in less fuel being burned, which also benefits the environment," Cunningham added.
Aug 9, 2018