New Rubber Compound for Tug Fenders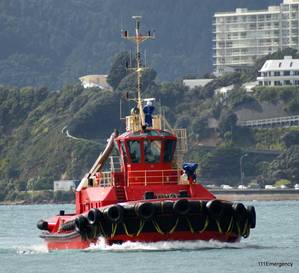 Trelleborg's marine systems operation has launched a new High Performance Super Abrasion Resistant (HPSAR) tug fender, which utilizes an innovative, superior rubber compound.
The application of this distinctive and improved compound not only significantly increases the service life of the fender, but also gives the fender a lower density than traditional solutions, contributing to reduced weight and increasing potential savings.
Richard Hepworth, President of Trelleborg's marine systems operation, says: "Tugs may be fitted with up to four types of fender, each of which serves a particular purpose. However, as tugs have become more powerful, choosing the right type, size and arrangement has become increasingly critical. It's now more important than ever to look for ways to increase service life, in order to offset the increased damage that comes with the increased power of the tugs.

"With tug vessels using fenders as bumpers to move larger vessels, they are constantly being pushed against steel surfaces that cause the fender to wear and tear quickly. Common complaints about the tug fenders that are currently standard across the market include the fact that they are easily damaged, heavy, and prone to chipping and chunking.

"The improved service life and reduced maintenance requirements of the HPSAR tug fender solution highlight just how much rubber compound composition impacts fender performance. In especially harsh environments, such as those in which tug fenders operate, this is critical to avoiding incidents and downtime when standard solutions may fail."

Trelleborg's HPSAR tug fenders have already proved their value in demanding operational environments, with Trelleborg securing two contracts in quick succession to supply the HPSAR fender system to two tugs operating in a port in North Western Australia. The port's previous solution was chipping, chunking and wearing out quickly in a particularly difficult operational environment.

The rapid deterioration of the previous fenders was due to an inferior rubber compound being used in fender production.

The HPSAR compound provided a much higher abrasion resistance in combination with a set of very high mechanical properties, meeting the client's need for a longer lifecycle and reducing maintenance costs. As the geometry of the fender was specified by the client to meet the same parameters as the current solution, the improved performance could be isolated to the superior rubber compound. The compound was developed and the fender system manufactured entirely within Trelleborg.

Tug fenders using the HPSAR compound should be specified by more than traditional parameters such as abrasion resistance, tensile strength, tear resistance and elongation at break. Importantly, to ensure the quality and performance of these new tug fenders, the chemical composition requirements should be specified.

This chemical composition specification should include standards for density, polymer percentage, carbon black percentage, ash percentage and polymer to filler ratio. Rubber compound chemical composition should be evaluated upon receipt of the final product, to ensure that the fenders will perform in harsh conditions over a long service life. Trelleborg has developed a new analytical test that will allow customers to do just this.

Dec 2, 2014