RV Sally Ride Enters Dry Dock for Maintenance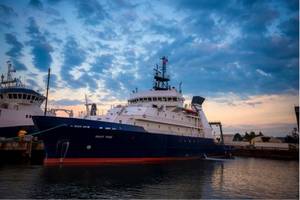 The Sally Ride, a Neil Armstrong Class Auxiliary General Oceanographic Research (AGOR) vessel, dry docked at Bay Ship and Yacht on April 15, 2017, to carry out modifications to superstructure and to perform general vessel maintenance.

Named for the late astronaut Sally Ride, the ship is 238 feet long and incorporates the latest technologies, including high-efficiency diesel engines, emissions controls for stack gases, and new information technology tools both for monitoring shipboard systems and for communicating with the world. It will serve to provide scientists with the tools and capabilities to support ongoing research including the Atlantic, western Pacific and Indian Ocean regions across a wide variety of missions.

The Sally Ride is a commercially designed, mono-hulled research vessel, capable of both coastal and deep ocean operations. The ship is equipped with cranes and winches for over-the-side loading of research equipment and supplies, as well as accommodations for twenty-four scientists. It is powered by a multi-drive, low-voltage, diesel electric propulsion system for efficiency and lower maintenance. The Neil Armstrong Class ship has state-of-the art oceanographic equipment allowing deep ocean mapping and information technology for ship monitoring and worldwide land-based communication.

The Sally Ride will be operated by the Scripps Institution of Oceanography under a charter party agreement with Office of Naval Research (ONR). A crew of 20 will operate the vessel with accommodations for 24 scientists.
May 19, 2017