US Ship Seizes Heroin in Arabian Sea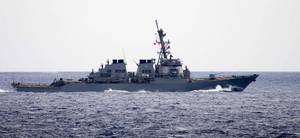 USS Laboon (DDG 58) intercepted a small stateless dhow in the international waters of the Arabian Sea March 13, seizing 270 kilograms of heroin.
Laboon, conducting maritime security operations in the region as a part of Combined Task Force (CTF) 150 of the Combined Maritime Forces, was conducting an inspection of the vessel as part of a flag verification boarding when the illicit cargo was found.
"Keeping these drugs off the street helps everyone, and keeps money from those who use the profits for harm," said Cmdr. Jason Labott, Laboon's commanding officer.
The operation could not have succeeded without cooperation between U.S. Navy and U.K. Royal Navy vessels under the command of a Royal Canadian Navy commodore. RFA Fort Victoria tracked the vessel using its helicopter and coordinated Laboon's interception.
"The execution of this operation demonstrates the abilities of multinational forces to coordinate across great distances for the common good of the international community," Labott said. "The hard work and professionalism of our boarding team, Laboon's crew, air crews from RFA Fort Victoria, and the shore side support of CTF-150 and Destroyer Squadron 50 deserve great credit."
The commander of CTF-150, Commodore Haydn C. Edmundson from the Royal Canadian Navy, commented that, "This is a big win for the coalition" and that, "We in the CTF 150 headquarters are very impressed with the superb cooperation of all units and organizations involved in this successful operation and we are particularly proud of the captain and crew of USS Laboon for their excellent performance on this important mission."
Mar 14, 2017