Seychelles Ports Authority Takes Delivery of New Tug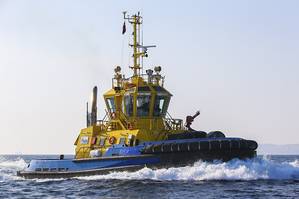 Seychelles Ports Authority (SPA) recently completed technical acceptance of a new azimuth stern drive (ASD) tug from Sanmar Shipyards in Turkey. The latest addition to the SPA fleet is another of the Sanmar flagship RAmparts 2400SX, designed by Robert Allan Limited exclusively for Sanmar and designated the Bogacay XLI.
Mobilization has already commenced under the direction of a Sanmar delivery crew. The tug's name will be unveiled upon arrival to its new home at Port Victoria in Mahe.
Measuring 24.4m in length with a molded beam of 11.25m and a maximum draft of 5.7m, the new tug is powered by pair of Caterpillar 3512C main engines, each developing 1,765kW at 1,800 rev/min driving Rolls-Royce type US 255 FP azimuth drives with carbon shafts turning 2,400mm diameter propellers inside high efficiency nozzles with stainless steel inner surfaces. Auxiliary generator sets are also by Caterpillar - a pair of 99ekW 400V 50Hz C4.4s.
The port side main engine also powers the pump that feeds the external fire-fighting system with a FFS supplied monitor capacity of 1,200m3/h located at the forward end of the bridge deck.
This machinery combination delivers a bollard pull of 60 tonnes and a free-running speed of 12 knots. The main towing winch, a double drum frequency-controlled unit manufactured by DMT, is mounted on the fore deck.
SPA is currently tendering out the main aspects of an expansion project at Port Victoria including civil works which cover a new quay. Port Victoria, which is currently 270m long, will be extended towards the sea by 40m. A new 600m quay will accommodate larger vessels, or two boats measuring up to 250m in length at the same time. Space will be also be made for the installation of two mobile cranes for loading and unloading of ships, storage yards and warehouses.
Oct 19, 2020