UK's Shoreham Welcomes Home Registered Vessel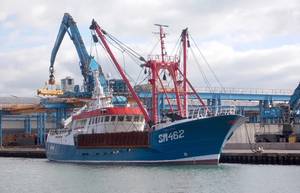 Shoreham Port UK, claimed to be UK's number 1 scallop port, welcome home registered fishing vessel 'Flowing Stream' following a significant refit that began in the spring of 2018.

Originally built in the year 2000, the vessel was flagged in from Belgium where it was previously registered to be renovated and renewed to bring it up to new vessel standards. Flowing Stream will join a long line of fishing vessels registered at Shoreham Port that date back to the 13th Century.

Flowing Stream is one of the many scalloping vessels that regularly land in the Port each year, with the Marine Management Organisation's recently published report revealing that in 2018, 18% of scallops landed in the UK by UK fishing vessels were landed at Shoreham Port, making it the number one scallop Port in the UK. Shoreham Port has seen an influx of scallop landings in the last three years, with an overall landing increase of 37% since 2016 and a catch of 5,817 tonnes of scallops in 2018.

The vessel refit took between eight and nine months and included equipment updates to match health and safety requirements, as well as improvements to crew accommodations and welfare. The trawler is owned by one of the UK's leading shellfish companies, Macduff, who specialise in processing wild scallops, langoustines, crabs and whelks.

Flowing stream has a gross tonnage of 385 and will continue to trawl for scallops, predominantly fishing in the Eastern English Channel near Shoreham. Trips typically last around a week, with seven to eight crew members on board, but the refitted vessel can accommodate up to nine crew members. Other areas the trawler may travel to include Plymouth, Scarborough, and Scotland.

George West, Head of Fleet Operations at Macduff Shellfish commented "Shoreham has always been a Port which we have long been associated with, but we felt a need to show a greater presence in the community. Throughout the year we rely on local contractors and businesses to keep our vessels operating and our crews serviced properly. Registering a vessel under the Shoreham banner seemed a natural step to improving what is already a mutually beneficial, long-lasting relationship."

Julian Seaman, Harbour Master at Shoreham Port commented "We are very pleased that Macduff have chosen Shoreham as Flowing Stream's home registered Port and look forward to continue to welcome the vessel in the coming years."


Mar 15, 2019