Silver Ships Delivers RHIB for Eglin Air Force Base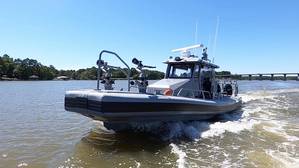 Theodore, Ala. boat builder Silver Ships said it has recently delivered an Ambar 1100 oceangoing rigid hull inflatable boat (RHIB) for the Eglin Air Force Base in western Florida.
Built to assist in ocean rescue and firefighting missions, the 36-foot-long vessel includes an enhanced center console model that features Silver Ships' specially designed console with a front windscreen and additional bolster seating.
Twin Mercury Verado 300-horsepower outboard motors enable the vessel to reach top speeds of 43 knots.
The AM1100 features shock-mitigating SHOX seating and Viconic decking for maximum comfort and injury prevention during high speed missions.
In addition, the vessel contains a robust navigation and communication system including a Furuno navigation package with GPS, radar and gyroscope. Among other equipment is a Darley 575 GPM Hercules 64-horsepower fire pump package for fire rescue missions.
Jul 10, 2020