Tug Smashes Wharf in New Orleans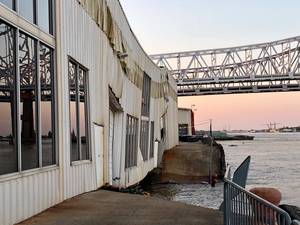 The wharf at New Orleans' Mardi Gras World was heavily damage as result of a tug allision on Monday.

No injuries, pollution or effects to vessel traffic in the area have been reported.

The U.S. Coast Guard said it received a report at approximately 6:50 p.m. that the uninspected towing vessel Steve Richoux allided with the wharf. Local media reported the vessel was pushing four barges at the time of the allision.

The U.S. Coast Guard is working with local agencies to respond to the incident.

Officials are investigating the cause of the alision.
May 8, 2018