Spliethoff Sending 6 Ships to BLRT for Refit Work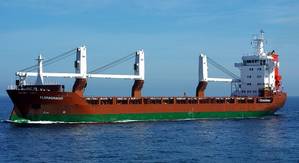 Dutch shipping company Spliethoff's Bevrachtingskantoor B.V. has signed contracts with BLRT Grupp to have scrubbers (systems for cleaning exhaust gases) and ballast water treatment systems installed on board six of its ships.
The latest contract for the modernization of Spliethoff's F-type ships (deadweight up to 12,500 tons) follows an earlier agreement to install ballast water treatment systems aboard the company's 14 S-type vessels (deadweight up to 21,500 tons).
"Work on modernization of ships has already begun and will continue until the beginning of 2020. During this time, most of the ships of the Spliethoff company will be re-equipped at the BLRT Grupp shipyards in Tallinn and Klaipeda," said Andrejus Babachinas, Chairman of the Council of Directors of BLRT Repair Yards.
The vessles will be equipped with the GloEn-Patrol ballast water treatment systems from South Korean manufacturer Panasia.
Feb 16, 2018