The Switch Scores Its Largest Marine Contract to Date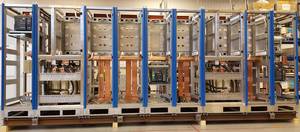 advanced drive train technology specialist Yaskawa Environmental Energy / The Switch said it has signed a contract to provide 16 DC-Hubs and 32 frequency converters for a innovative new shuttle tanker concept developed by Teekay and Wärtsilä.
The four tankers will be built by Samsung Heavy Industries in South Korea, with Yaskawa Environmental Energy / The Switch set to begin deliveries to Wärtsilä in September 2018.
The agreement is the biggest marine contract for Finnish-headquartered Yaskawa Environmental Energy / The Switch since entering the segment in 2013. According to Asbjørn Halsebakke, General Manager, Norway, The Switch DC-Hub technology is a key piece of the jigsaw. It provides absolute redundancy and system availability, while eliminating the need for an AC switchboard. This lowers both the initial system investment cost and long-term operational expenses.
Yaskawa Environmental Energy / The Switch develops megawatt-class permanent magnet (PM) machines and converter packages for the marine sector, as well as the wind industry.
Halsebakke said, "From the start, we've been focused on developing technology that lowers operational cost, enabling vessels to be more competitive and reducing their impact on the environment. We feel there is a growing demand for smarter, more sustainable operations, and this concept from Teekay and Wärtsilä embodies that drive."
The lightweight frequency converters, eight in each ship, provide reliable system performance. The DC-Hubs enable Wärtsilä's hybrid solution, which uses batteries for fuel savings. Any energy source can be connected to the DC-Hub.
"Our technology is simple, robust and perfect for this concept," Halsebakke noted. "It works with Wärtsilä's smart solutions to enhance operational efficiency. The fact that any power source can be connected to the DC-Hub helps to future-proof vessels."
"We believe this technology can help shipping chart a course toward a more sustainable future - both environmentally and commercially - and will drive future marine growth for us," he continued.
Sep 5, 2018