SBG Systems Upgrades Its Ekinox Series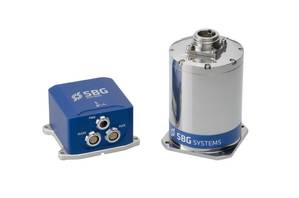 SBG Systems said it will soon present its new generation of advanced and compact inertial navigation systems, the Ekinox 2 Series.
The Ekinox Series is a line of tactical grade MEMS-based inertial navigation systems first released in 2013. The newest generation - set for launch at the U.S. Hydro Show, in Galveston, Texas - is now twice more accurate in attitude due to a complete redesign of the in-house Inertial Measurement Unit (IMU) integrating cutting-edge gyroscopes and accelerometers.
Ekinox 2 Series is fully compliant with IHO standards. It provides 0.02° roll and pitch, a centimeter-level position, and deliver a robust heading even during GNSS outages; when the vessel crosses a bridge for instance. The sophisticated heave computation reaches 5 cm in real-time and even 2.5 cm accuracy with the internal delayed heave algorithm. With new accelerometers, this new generation has also significantly improved resistance to vibration which frequently occur on small vessels. Finally, the addition of the Beidou constellation improve signal availability in Asia.
Available with aluminum or titanium enclosure, Ekinox can be installed on-board or near the echo-sounder head for the best performance. Configuration is made easy throughout the intuitive embedded web interface where all parameters can be quickly displayed and adjusted. For example, the 3D view of the vessel allows the user to visualize settings such as the Ekinox position, alignment, lever arms, etc. For a smooth workflow, Ekinox is fully compatible with Hypack, QINsy, and Teledyne PDS 2000 software.
Ekinox 2 Series is ITAR Free. The product line will be available during the second quarter of 2017.
Mar 20, 2017