Technology Advances Fisheries Management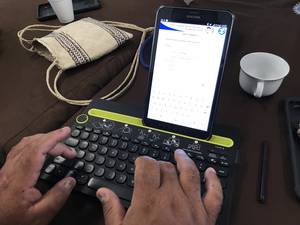 Real or near-real time management of Pacific purse seine tuna fisheries is now possible for the first time in history, changing the game for fisheries management.
Observer electronic reporting tools - through the new Observer eReporting App -will now be used to help reduce illegal, unreported and unregulated (IUU) fishing and bolster supply chain transparency and traceability in the Western and Central Pacific tuna fisheries.
A 2016 analysis conducted by the Pacific Islands Forum Fisheries Agency (FFA) showed that nonreporting, misreporting and underreporting represented the greatest proportion of IUU fishing, resulting in a $600 million loss for the region.
"Transparency and traceability are crucial for good fisheries management, and this technology was a significant step towards combating IUU and securing sustainable fisheries," said WWF's Western and Central Pacific Tuna Program Manager, Bubba Cook.
"Up until now, Pacific fisheries observers only had pen and paper to make their recordings. This initiative should serve as the catalyst for expansion of these kinds of technologies in the region, which are designed specifically to address the increasing challenges of IUU fishing."
Cook continued, "Once this technology becomes standard and widespread in the region, it should ratchet down IUU to negligible levels when used effectively with other existing and emerging monitoring, control and surveillance technologies - as a driving force in improving the way that oceans are managed."
From 2015, WWF has supported the trial and implementation of the Observer eReporting App developed by Integrated Fisheries Information Management System (iFIMS), into a durable hardware platform. The Parties to the Nauru Agreement (PNA), a sub-regional governance body that controls the world's largest sustainable tuna purse seine fishery, was the first in the region to adopt this technology as part of their fisheries observer program.
The initiative places ruggedized tablet computers and Rock7 Satellite Personal Communication Devices (PCDs) into the hands of fisheries authorities, so they can better monitor fish catches and, in turn, verify and validate catch records and regulatory requirements such as Vessel Days at Sea allocations. The hardware will support one of the most prominent information management systems in use in the Western and Central Pacific at this time: the iFIMS.
"We're proud to be part of this initiative and see the RockSTAR personal communication device as an important tool for near real time reporting of catch and other activities at sea, as well as supporting safety at sea with two-way communication," said Nick Farrell, a Director at Rock7.
The PNA is fully engaged and committed to expanding the work toward better information for management and enforcement purposes. The PNA maintains 100 percent observer coverage of all purse seine fishing operations and, with support from WWF, the PNA Observer Agency has 100 percent electronic PCD communications for their observers with an aim of 100 percent electronic reporting by observers through rugged tablets paired with the PCD by the end of 2018.
"The transition to fully electronic reporting, from vessel logbooks to observer reports to port inspection represents the logical step toward full verification and validation of our supply chain in a real time basis," said PNA's Commercial Manager Maurice Brownjohn.
With roughly 60 percent of global tuna catches, the western and central Pacific Ocean is home to a variety of tuna species that supply markets around the world. Estimates have put the value of the fishery as high as $7.2 billion in recent years.
The role of observers has become extremely important for not just scientists in ascertaining the stock levels of the fishery but for compliance. The data they send to authorities helps to understand the state of the fish stock as well as helping with compliance with fishing rules.
Given the critical role observers play, Pacific nations and other organizations need every tool available to ensure they can operate safely and effectively.
Apr 20, 2017