Thought Leadership: Matthieu de Tugny, COO, Bureau Veritas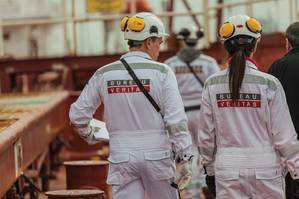 Matthieu de Tugny, COO, BV on the biggest challenge in autonomous shipping
The regulatory environment, from the IMO, IACS to the flag level, is very sensitive, because you're talking about people, too. In the 1970s was when we developed the first automation notations for unmanned machinery spaces, the first issue we had was with the trade unions, as it was removing people from the machinery spaces. It's a flag state issue, it's a port state issue … to be honest before we talk about autonomous ships we should talk about smart ships, connected ships … there are so many barriers between us."

As the cruise industry continues to boom, so too does Bureau Veritas' (BV) marine division, which has a long history and promising future in the sector. Maritime Reporter & Engineering News met with Matthieu de Tugny, COO, BV to discuss recent activity and future prospects in cruise and beyond.

Bureau Veritas has a long history in the cruise sector, dating back to when France's Chantiers de l'Atlantique was a formidable power in the cruise ship building sector, but also based on strong and long relationships with cruise ship owners in the U.S., France and Europe. "Today, we have diversity of clients within the cruise industry, with companies such as MSC where we classify about 90% of its fleet," said Matthieu de Tugny, COO, BV.
But the relationship does not stop with the big ships, and BV is actively involved in the fast-growing expedition class ships, counting French Ponant and the U.S.' SunStone among its clients. In fact in SunStone BV is involved in the first cruise ship orders in China, as featured in the June 2018 edition of Maritime Reporter & Engineering News ("Cruise Ship Construction: China Rising; https://www.marinelink.com/news/cruise-ship-construction-china-rising-438788)
But with opportunity comes challenge, particularly the quest to build cruise ships in China. "It is a challenge for them and it's a challenge for us because we have to educate the shipyard," said de Tugny. "As you know, building a passenger vessel is not like building a bulk carrier or a tanker; there are so many things to assemble, and so many things to manage with European equipment suppliers." de Tugny said that assembly is the biggest challenge, "as you are pulling many pieces from European countries to be connected at the yard. From a structure point of view, they know how to do it. They have been building ships for many years now."
While it is hard to put a dollar amount on the additional investment of money and resources to build effectively in China, de Tugny said BV started by educating its own surveyors (in China) relying on European staff to train them. "We have to work very closely with them and the yards to make sure that they adapt and adopt new passenger vessel construction criteria," said de Tugny. But it's also a ship owner story, too. "They (ship owners) need a very strong supervision team locally to ensure that the ship specs are met. It's a partnership."
Today BV has 400 marine personnel in China, and 10,000 personnel in China across the entire BV group. "It is our biggest area of operation. China is an area of real strength."

The Evolution of Class
With its experience in the cruise sector BV is a rich source of information, but as de Tugny points out, "classification is a certification body, it is not our role to advise." As the maritime industry as a whole digests myriad regulation changes from the IMO, IACS and class, classification itself has evolved, delivering its expertise under different branding. "Because of the potential conflict of interest we cannot advise and certify from under the same BV banner," said de Tugny. This speaks to a larger shift in the role of classification itself. "Today I think that class rules are moving from a more prescriptive approach to more of a risk-based approach," said de Tugny. "Look at the cruise industry and LNG as fuel; LNG as fuel in the cruise sector is new, and with that you have to perform a risk analysis. Based on the recommendation of the risk analysis, the ship owner and ship builder makes a solution decision based on this risk analysis. You see this is a consultative approach, not a prescriptive approach. That's the evolution you can see today. That's a change of spirit."
Looking at the issue of fueling ships, with the IMO Sulfur rules coming in 2020 and the recent mandate to cut emissions by 50% by 2050, de Tugny thinks that the debate over meeting the new regulations is the biggest topic du jour, and will be for some time to come. But whether the choice is LNG or another alternative fuel, scrubbers or some other option, it all comes down to money and the financial impact on the shipping companies.
Late last year when French shipping giant CMA CGM ordered a series of 22,000 TEU containerships with an LNG fuel option, de Tugny said "I think that was a milestone in the shipping industry …" the company took the risk and now "the train is leaving the station" on LNG as fuel in maritime.
While financials will top the marine fuel debate, not far behind is logistics. "It's an interesting discussion, as it depends on the trading of the ships," said de Tugny. "It's a case-by-case basis, and it will depend on the evolution of the bunkering system. It's still too early to confirm an actual trend."









Aug 27, 2018