IMO 2020: Total Lubmarine 'Road Show' in NYC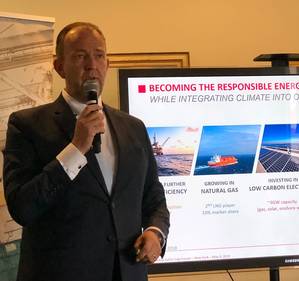 On Thursday, May 9, 2019, Total Lubmarine brought its "Total Global Sulfur Cap Forum" to New York City, a meeting including of Total Lubmarine business and technical executives and shipowners.
The event, held aboard the historic Aircraft Carrier Intrepid Museum, gathered a full-house of local shipowners, and New York was the sixth stop on an 11 city world 'road show' of the forum to deliver insight on the soon-to-be-implemented fuel rules from the International Maritime Organization (IMO), set to enter force on January 1, 2020, effectively cutting sulfur emissions from 3.5% to 0.5%.
The new fuel regulations have resulted in much confusion throughout the maritime market among shipowners, who must decide on the best and most economic means to meet the IMO mandate economically.
"2020 is a game changer and we are still in the preparatory phase," said Serge Dal Farra, Global Marketing Manager, Total Lubmarine. "Non-compliance is not an option," noting that fines, detentions, bans, the loss of insurance and the loss of seaworthiness are among a long list of potential perils for ship owners.
As fuel availability, quality and price are big concerns of owners, as well as a raft of technical questions regarding new fuel and lubricant potential impacts on machinery, Robert Joore, Managing Director, Total Lubmarine and his team were on hand to discuss market conditions in overview, as well as to present the Total solutions. «We are investing a lot in LNG. Globally Total is the number two LNG producer with a 10% market share.»



May 10, 2019