​​​​Trelleborg Relocates to Accommodate Growth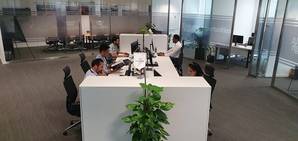 Trelleborg's marine and infrastructure operation has relocated its headquarters and Dubai marine fender sales operation to Jafza One, a new, premium commercial complex in the heart of Jebel Ali Free Zone, Dubai in the UAE.
The move to a larger office space follows the formation in quarter one 2019 of Trelleborg's marine and infrastructure operation, formerly Trelleborg Marine Systems. In addition to its marine solutions, the operation has widened its remit to include Trelleborg's infrastructure operation as well as its Qingdao-based sales office and manufacturing facility, which manufactures marine fenders, docking and mooring equipment, and advanced polymer solutions for railways, bridges, tunnels, buildings and power plants. As a result, Trelleborg has also expanded its team at the Dubai office, with two new additions to the operation's management team and three appointments to the marine fender sales team.
Ideally located alongside the region's largest deep sea port of Jebel Ali, Jafza One is Jafza's flagship commercial property and brings together businesses from all around the globe. It provides access to new business opportunities as a maritime hub both regionally and globally, thanks to Dubai's centralized time zone that combines East and West. The complex comprises a 34-storey twin office tower and will be home to a 322-room luxury four-star hotel, a 600-seat auditorium, 22 meeting and conference rooms and a 1,500 square meter exhibition hall, once complete.


Aug 21, 2019