WSS to Trial Drone Deliveries to Ships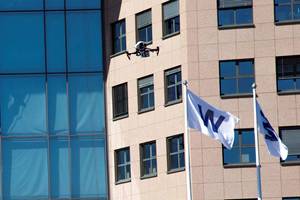 Marking a shift in how ship agents can support customers, Wilhelmsen Ships Service (WSS) said it will soon begin delivering its agency essentials via drone.

A much talked about technology, with obvious applications for the shipping industry, it is WSS'ships agency team, rather than the company's supply chain, or product divisions, which have been assessing the business opportunities offered by drones.

Marius Johansen, VP Business Solutions & Marketing, WSS Ships Agency explains, "Whether it is deliveries of critical documents or vital medical supplies, tank inspections, or monitoring cargo and stockpile levels, we believe semi-autonomous drone flights can support and further enhance what our ships agency team can offer our customers."

Adding, "Relied upon by owners, operators, vessels and crew to get spare parts, medicine, documents or cash to master where it needs to be at moment's notice, drone delivery is a natural extension of our existing agency service portfolio."

Dispensing with the need for launch boats to deliver such essentials to vessels at anchorage, along with cutting delivery times, Johansen estimates drone flights will also slash costs. With launch vessels typically costing on average $1,500, he suggests a drone delivery would eventually come down to costing just $150.

Launching a large scale working pilot project in one of the world's busiest ports in 2017, in spite of the complexity of global aviation rules and restrictions placed on unmaned aerial vehicles, for WSS drone delivery is very much here to stay, the company said.

Discussing the project for the duration of Nor-Shipping the WSS agency team will be on the Wilhelmsen stand in the Disruptive Sustainability hall. Nor-Shipping 2017 takes place in Oslo and Lillestrøm, Norway, from May 30 to June 2, 2017.
May 18, 2017