Tsuneishi Bags Order for 10 Bulkers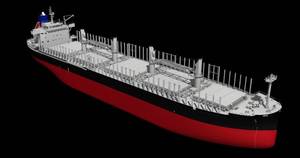 Japanese shipping company Nissen Kaiun has ordered ten Handysize bulkers from compatriot shipbuilder Tsuneishi Group.

Though official sources maintained that Tsuneishi Shipbuilding receives order for several units from a shipowner in Japan for the newly developed 42,000-metric-ton log and bulk carrier TESS42 without revealing the name and numbers, some media-outlets report that the order was for ten bulkers and name of the buyer is Nissen Kaiun.

According to Asiasis, the contract has a total value of about $250 million. The vessels are to be constructed at Tsuneishi's shipyard in China, Zhoushan yard in Zhejiang province.

"With growing demand for cargo transport due to economic growth in Asia, we foresaw the need for a larger version of the handysize log and bulk carriers and developed this ship model, which maintains the compact size of the TESS38 but has enhanced transportation capability," said a release from the company.

Tsuneishi said that by fitting the newest electronically-controlled engine, the TESS42 will reduce fuel consumption per tonne mile by 4% or more at the same draft and same vessel speed as TESS38.

The newly developed TESS42 follows the design concept of the TESS38 while improving transportation efficiency, with deadweight capacity increased by approximately 2,000 tons with the same draft and by approximately 4,000 tons at full load.
Jul 10, 2019