Unique Multiple Corer for Project in Papua New Guinea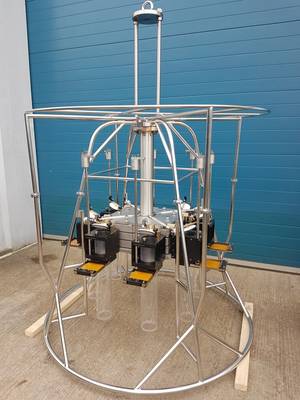 A uniquely modified Multiple Corer has been shipped to Australia for use in a project in a remote location of Papua New Guinea.
The corer, produced by seabed sampling specialists Ocean Scientific International Ltd (OSIL), has been converted into a modular design to allow it to be transported by helicopter. The frame can easily be broken down into two stackable pieces that allows the overall shipping height of the corer to be greatly reduced, and enables quick reassembly of the system ready for deployment.
The hydrostatically damped Multi Corer is constructed from stainless steel and features detachable core assemblies, which enables the core tubes (or if necessary the entire core tube assembly) to be removed from the corer for analysis or storage. The core tubes are sealed top and bottom once the sample has been taken, allowing rapid retrieval of the corer without jeopardizing sample integrity.
The corer will be used to provide seabed sediment samples for benthic fauna and geochemical analysis, as part of an environmental monitoring program for a mining project. The OSIL corers are capable of collecting up to 12 samples simultaneously, which include a high-quality undisturbed sediment sample and the overlying supernatant water, making them ideal candidates for use in environmental assessments.
The corers are available in a 600mm or 800mm length core tube specification. Delivery times for the corers and spares are low, meaning last minute cruises can be catered for and systems can be kept in constant use for many years.
Dec 6, 2017