Unmanned Vehicles In, On and Above the Water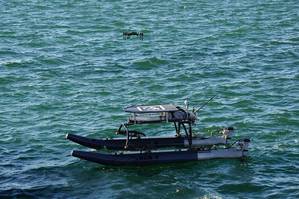 As part of the annual BlueTech Week in San Diego, attendees were given an opportunity to see several unmanned vehicle technologies in action.
The main event was put on by a team consisting of Marine Advanced Research, Inc.; Planck Aerosystems, Inc.; and Teledyne Marine, Inc. (all with bases in California). Together, the team demonstrated multi-interoperability among five different unmanned systems on the water, in the air and subsea. A Z-Boat 1800RP unmanned surface vehicle (USV) from Teledyne Oceanscience used Odom MB2 multibeam sonar technology to search for and inspect targets of interest near the dock, while a Planck Shearwater unmanned aerial system (UAS) launched from one of Marine Advanced Research's 16' WAM-V USVs to track the location and activity of the Z-Boat, holding station in the air to indicate targets of interest. A second WAM-V then traveled to the area to deploy a SeaBotix remotely operated vehicle (ROV) outfitted with an array of Teledyne technologies (Bowtech camera and lights, BlueView sonar, SeaBotix grabber and RDI Pathfinder DVL) to inspect the suspicious object on the seafloor or on the pier.
Also among the companies with vehicles in action was Arizona based Hydronalix, Inc., who demonstrated its remote controlled rescue buoy EMILY. Travelling at speeds up to 35 miles per hour, EMILY vessels deliver swift rescue without having to send a human into the water.
California's Blue Robotics had its BlueROV2 on display too, showcasing the capabilities of one of the market's most affordable vehicles (pricing starts at $3,000). The mini ROV, equipped with vectored thrusters, an HD camera, open source software and an expandable design, is suited for inspection, research and exploration.
Nov 10, 2017