Vestdavit to Equip Norwegian CG Vessels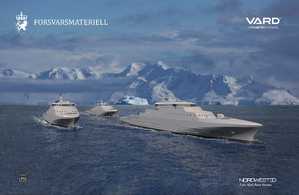 Vestdavit secured an order to supply three new Norwegian Coast Guard vessels with davits equipped for polar conditions, in a project which also calls for installation of a deck-mounted transfer system for rapid deployment.

The ships are being built by Vard Group within the P6615 project to replace Nordkapp-class ships with a new generation of search-and-rescue, surveillance, and oil recovery vessels. The 136m length newbuildings have been developed for worldwide operations including arctic areas and will feature ice-strengthened hulls and ice-class notation on their delivery from Vard Langsten, Norway, one apiece in 2022, 2023 and 2024.
Each vessel will come complete with one telescopic TBD-10000L davit system plus two PLR-5003KV units, built to Vestdavit standards for minimum availability of 330 days a year up to upper Sea State 5, based on actual North Sea conditions 1958-2018. In line with the areas of operation envisaged, the davits will be winterized for full functionality in temperatures as low as -25deg C, as required in the Polar Code.
Sep 10, 2019