Wellard Sells MV Ocean Swagman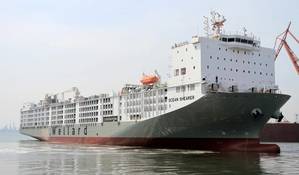 Cash-strapped livestock shipper, Wellard Limited has agreed to sell its Ocean Swagman vessel to major shareholder Heytesbury Holdings for $US22 million ($31.3 million).

Australia's largest live export company said in a stock exchange announcement that Ocean Swagman has a capacity of 7,000 cattle or 26,000 sheep. The company will sell the vessel just over two years after the company sold its sister ship the Ocean Outback.

Wellard will charter the vessel back from Heytesbury for an initial period to 31 March 2021, with options to extend for up to 4 years (1 year extension option on same terms, and further 3 years extension option at market rate to be agreed).

The sale and leaseback of the MV Ocean Swagman represents a further significant step in Wellard's ongoing restructure plan to reduce debt levels and improve financial and operating flexibility. Importantly, Wellard retains management of and access to a fleet of four specialist livestock vessels while releasing significant equity without shareholder dilution.

When completed, the group's overall debt will be reduced from approx. US$85 million to approx. US$64.0 million. It will reduce future finance servicing obligations, in turn improving Wellard's cash-flow.

The proceeds from the sale will be used to fully pay out the remaining US$6.0 million Wellard owes to the vessel's financier, Nord LB; US$10 million will be paid to Convertible Noteholders; and the balance to other vessel financiers and transaction costs.

Wellard's Executive Chairman, John Klepec said the transaction reduces Wellard's debt profile and provides additional time and ability to restructure the Company's balance sheet.

"Heytesbury's purchase of the M/V Ocean Swagman provides an attractive opportunity for Wellard to realize the equity value in the ship while retaining continued use of the vessel for chartering or exporting opportunities . Heytesbury has a deep understanding of the business, and we look forward to continuing our very productive working relationship," he said.
Jul 5, 2019