Workboats: Three Damen Stan Tugs for Corpetrolsa Group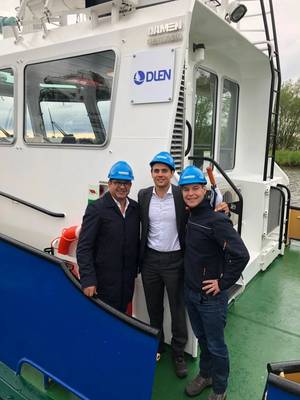 Damen Shipyards Group signed a contract with Corpetrolsa Group of Guayaquil, Ecuador, for the supply of three tugs; one Stan Tug 1205 and two Stan Tugs 1606. The tugs will be operated by Corpetrolsa subsidiary DLEN S.A. to support its bunkering operation.

Corpetrolsa Group operates its own fleet of tankers in the 2,000 to 7,000 DWT range and the three new tugs will be used to assist them in the Ecuadorean ports of Esmeraldas and La Libertad. The vessels were already in stock at Damen Shipyards Gorinchem and will be supplied in their standard format without modifications. In all, the time from first contact to the signing of contract was no more than two months, with the delivery of the vessels to just an additional two months.

"These are the first tugs that we have owned, and we chose Damen as our supplier based on their strong reputation in the world of tugs," said Vicente Bustos of Corpetrolsa Group. "Also the quality is good, the price is right, and they will provide a safe operating environment for our employees. As we previously hired tug service providers to maneuver our tankers this deal will actually save us money in the long term."

"Ecuador is modernizing rapidly as a country," added Vicente Bustos. "In order to do this we need the best technology to the highest standards available. These new tugs will be in tune with that drive to achieve our goals."

May 16, 2018