'World's Greenest Cruise Ship' Construction Underway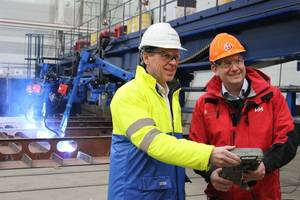 Hurtigruten CEO Daniel Skjeldam pressed the button to officially kick off the construction of hybrid expedition cruise ship MS Roald Amundsen - "the greenest cruise ship the world has ever seen," according to the ship owner.
The new ship is the first of a new generation that will change expedition travel forever, Skjeldam said during the ceremony at Kleven Yards on the western coast of Norway.
When launched in 2018, MS Roald Amundsen will be the world's first expedition cruise ship powered by hybrid battery technology. The steel section marking the official start of the construction, will become one of the main engine compartments - housing the ship's hybrid engines.
Sustainability will be the core of every detail of the ship and the on board operation, the owner said. The hybrid engines will reduce fuel consumption substantially and allow for 15-30-minute periods of completely emission free sailing. With a number of other technical solutions throughout the ship, MS Roald Amundsen will be the most advanced and environmental friendly expedition ship ever built, according to Skjeldam.
The vessel is being designed by Rolls-Royce and will have the latest automation and control systems, including the Rolls-Royce Unified Bridge, the first delivery of two azipull propellers using permanent magnet technology, two large tunnel thrusters, stabilizers, four Bergen B33:45 engines, winches and power electric systems.
In addition to a variation of custom built expedition equipment and a handpicked Expedition Team, MS Roald Amundsen will feature in- and outdoor explorer decks, an activity center, three restaurants, a fitness and wellness center, an aft top deck pool bar with two jacuzzis and an infinity pool - as well as other features yet to be disclosed.
More than half of the 265 all outside cabins feature private balconies, while a number of Expedition Suites features private outdoor Jacuzzis.
The MS Roald Amundsen 2018/2019 inaugural season includes expedition voyages to Antarctica and the Chilean fjords.
MS Roald Amundsen
Built: 2018 Kleven Yards, Norway
Gross tonnage: 20.889
Length OA: 140 m
Breadth molded: 23.6 m
Draft: 5.3 m
Guests: 530
Cabins: 265 (all outside, 50% private balconies)
Crew: 151
Cruising speed: 15 knots
Flag: Norwegian
Ice class: PC-6
Main Generating Sets: Four Bergen B33:45, each with scrubber system for removal of NOx
Battery system
Propulsion system comprising two Azimuth Thrusters - Azipull, with permanent magnet motor, and two tunnel thrusters.
Remote control system
Stabilizers, type Aquarius 100
Dynamic positioning system, DP0
ACON Integrated Automation System, including Acon Connect and Acon Energy.
Unified Bridge including chairs, consoles and auxiliary bridge control
Mooring winches and cable lifter units of electric frequency converter.
Rolls-Royce Power Electric System, technology including generators, motors, switchboards and a Power Management System
Design, basic design and detailed engineering
Feb 27, 2017