Wärtsilä Tapped for Norwegian FV Upgrade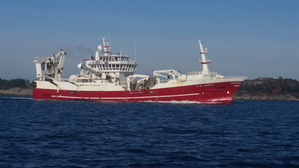 Wärtsilä is to supply a 12-year old fishing vessel with a Wärtsilä 32 engine, a NOx Reducer (SCR) selective catalytic reduction system, and a shaft generator.
The new engine will replace an existing one from another supplier onboard the 'Brennholm', a 75-m long vessel owned by Norway-based operator Brennholm AS. The installation will take place at the Orskov Yard in Denmark at the end of 2020.
According to measurements carried out in various operating modes, the fuel-efficient Wärtsilä engine will save approximately 13 percent in fuel costs compared to the vessel's existing engine. Wärtsilä will also deliver a NOx Reducer (SCR) system that will reduce nitrogen oxide emissions to the atmosphere by approximately 51,000 kilograms per year. These installations will enable the vessel to comply with the IMO's Tier III regulations. The Wärtsilä scope also includes a shaft generator to produce electrical power for the ship's network.
Wärtsilä is scheduled to deliver its equipment to the yard in October 2020.
Nov 20, 2019