3D Printing: Navy Builds Up Additive Manufacturing on Ships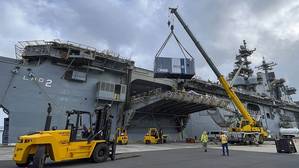 The U.S. Navy has long valued the potential of additive manufacturing (AM) and 3D Printing.
AM refers to the depositing of material layer by layer to create an object. For the Navy, it's not practical to carry every replacement part for every system on a ship, and it can be difficult to forecast if or when parts will fail. AM provides a flexible source of supply in being able to make parts instead of ordering them and waiting for them to arrive, especially for warships at the far end of the supply chain. Printing repair parts on demand can save time, lower costs and reduce the need to carry extensive parts inventories.
While there are many things one can do with AM, such as rapid prototyping, the holy grail has been the ability to fabricate parts at sea to repair things quickly. Imagine not having to carry multiple spare parts for every piece of equipment, or having to rely on a lengthy supply chain to get urgently needed parts from a supply depot.
Desktop 3D printers are widely available, starting at about $300 for a home system. Many ships have 3D printers that make relatively small plastic parts.
"We've been using polymer plastic printers on ships and submarines for several years, but they are essentially desktop units that make relatively small plastic parts. The feedback we were getting from the fleet is that they need larger metal parts," said Jim Pluta, additive manufacturing (AM) program manager at Naval Sea Systems Command (NAVSEA).
Now the Navy has installed two different kinds of metal 3D printers on Navy ships, with an aluminum system on the west coast, and a stainless steel system on the east coast.
A Xerox Elem Additive Solutions ElemX liquid metal 3D printer was delivered in a container aboard USS Essex (LHD 2) in July 2022, becoming the first metal additive manufacturing machine installed on a U.S. naval vessel. The ElemX printer is modular, and after operating aboard Essex during the RIMPAC 2022 multi-national fleet exercise last summer, the CONEX box was transferred to USS Boxer (LHD 4) to continue the evaluation.
The ElemX printer was a collaboration with Commander Naval Surface Force Pacific (CNSP) and NAVSEA leveraging the Naval Postgraduate School (NPS) cooperative research and development agreement (CRADA) with Xerox, which is a powerful tool to partner quickly for win/win applied research. "The ElemX effort not only demonstrated the technology in shipboard research use cases, but created a self-contained, mobile 3D metal printshop by outfitting a common shipping container that can be put on any ship, or plugged into any power source, such as a field generator so Marines can also have that capability," said Capt. Jeremy Gray, NPS Surface Warfare Chair for CNSP.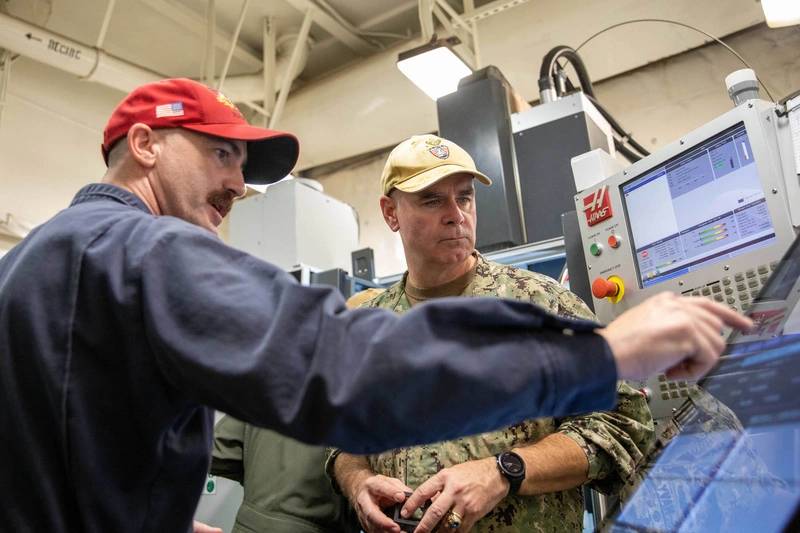 Machinery Repairman 1st Class Cory Hover, leading petty officer for the Wasp-class amphibious assault ship USS Bataan (LHD 5) machinery repair shop, speaks with Commander, Naval Surface Forces Atlantic Rear Adm. Brendan McLane about the ship's newly installed additive manufacturing equipment, Nov. 23, 2022. This is the first Naval Sea Systems Command sponsored Hybrid system installed on a U.S. Navy ship and will permit the capability to additive manufacture metal and plastic components locally.
U.S. Navy photo by Mass Communication Specialist 3rd Class Bradley Rickard

On the east coast, a Phillips Hybrid Additive Manufacturing system arrived aboard USS Bataan (LHD 5). The Bataan project is intended to be a permanent fixture on the ship. The Bataan's equipment, installed under a joint effort between Commander, Naval Surface Force Atlantic and Naval Sea Systems Command (NAVSEA) Technology Office, and supported in design and execution by Johns Hopkins Applied Physics Laboratory, includes the Phillips Additive Hybrid system, which integrates a Meltio3D laser metal wire deposition tool head on a Haas TM-1 computer numerical control (CNC) three-axis mill.
While both are metal printers, the ElemX platform employs a fundamentally different AM process than the Philips Additive Hybrid system on Bataan. The ElemX printer makes aluminum parts, while the Phillips system uses 316 stainless steel. The ElemX uses a molten metal droplet deposition, where the Phillips Hybrid system is a wire-fed laser system using a directed energy deposition (DED) process to create a nearly-complete object, and then, as a hybrid system, uses the CNC milling head to finish the part.
While many industrial 3D metal printers use powdered material, which can be reactive. The wire-fed systems are much safer for shipboard use.
According to Bataan's executive officer, Capt. Paul Burkhart, using the 3D printer to make parts on demand doesn't replace the supply system. But, Burkhart said, it does provide a way to fix a part or component to get a system it operational again.
"Instead of having to order the whole, large assembly, and wait for it to get delivered wherever we are in the world, we just manufacture the sub-component or part that's required, especially if it's something we don't normally carry," said Burkhart.
Burkhart said that a group of Bataan Sailors received training from the manufacture to operate the system, and teach others how to use it.
Because some Navy ships with repair shops already have the Haas CNC system, that system can be "upgraded" to be a Hybrid AM system.
Jonathan Hopkins, who leads the additive manufacturing team at NSWC Carderock Division, said the Bataan's system complements the training and expertise that Navy people already have. "Stainless-steel welding is a capability found on our larger ships, and the wire feed stock for the printer is the same as used in our welding machines-it's in the supply system and is commercially available. For the ships that already have the Haas CNC system, it's possible to add the Meltio system and Phillips integration to existing the CNS tooling to upgrade a ship with this capability."
The San Diego-based Essex and Boxer and Norfolk-based Bataan are 843-foot, 41,000-ton Wasp-class multi-purpose amphibious assault ships that can carry 2,500 Sailors and Marines, along with boats, vehicles and aircraft.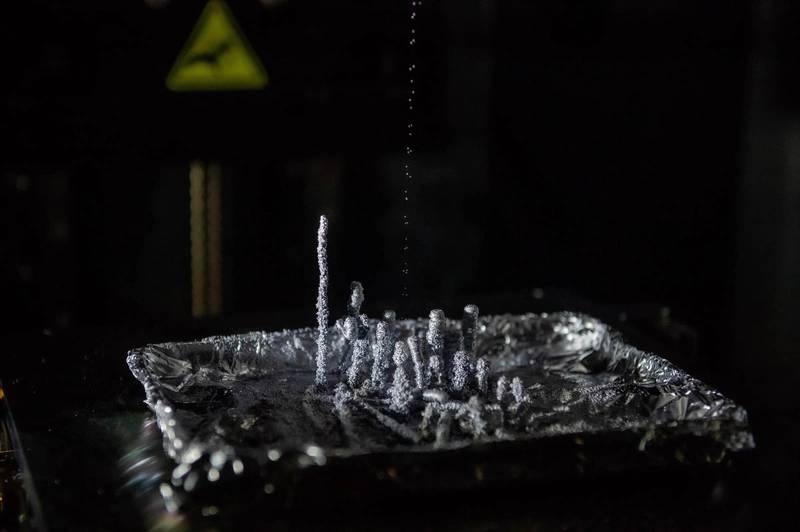 A 3D printer conducts a diagnostic run aboard Wasp-class amphibious assault ship USS Essex (LHD 2), July 9, 2022.
U.S. Navy photo by Mass Communication Specialist 3rd Class Isaak Martinez
Jan 26, 2023