DP World to Install Innovative BOXBAY Container Storage System in Busan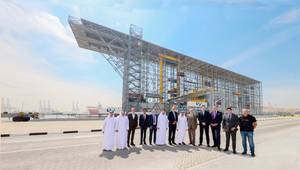 UAE-based logistics giant DP World announced its BOXBAY high-bay storage system will be installed to boost container handling efficiency at its terminal in Busan, South Korea.
BOXBAY was developed by DP World in a joint venture with German plant technology supplier SMS group, who first created and proved the system for handling heavy metal coils. Refined for port logistics, the fully automated rack-like container storage system allows direct access to each container at any time, improving efficiency and environmental performance.
Busan Newport Corporation, which is 66% owned by DP World, on Wednesday inked a deal with Boxbay FZCO to initiate the design and engineering works for its site in South Korea, marking the first commercial use of the system following a pilot at Jebel Ali's Terminal-4.
Busan Newport Corporation will integrate the technology alongside its existing automated rail mounted gantry cranes (ARMG) and truck operations as a retrofit on an existing empty storage area, drawing power from solar panels on the roof of the storage system.
The terminal, which handled 5.3 million TEUs in 2021, expects the system will eliminate 350,000 unproductive moves per year, improving the overall truck servicing time by 20%.
Sultan Ahmed Bin Sulayem, Group Chairman and CEO of DP World, said, "If we were to imagine the future of trade, this is where it begins. We have taken a technology that has proven its effectiveness in the metals industry in Germany and further transformed it to create BOXBAY, an innovative container storage system to enhance global trade. Our pilot scheme in Jebel Ali has already shown the advantages of a fully automated, sustainably powered high-bay storage system. I'm proud that DP World has led this innovation that will now be adopted in Busan. The technology reflects our continuous efforts to embrace technologies that enhance the flow of trade and further enhances Dubai's position as a global leader in the ports and logistics industry."
Tiemen Meester, COO Ports & Terminals, DP World, said, "We have long invested in new and innovative technology that will improve and modernise our ports and terminals. It's a tremendous step forward to announce our first commercial use of BOXBAY. The Busan Newport Corporation terminal is an exemplary operation that is already technologically advanced and forward focused. With the introduction of the BOXBAY high-bay storage system, we will be able to better serve our customers while keeping our people safe and cutting carbon emissions from the environment."
Glen Hilton, CEO & Managing Director, DP World Asia Pacific & Australasia, said, "We are delighted to see this technology implemented first at one of our terminals. Safety, sustainability and efficiency are huge drivers for our business. We look forward to working with the Busan Newport Corporation and BOXBAY teams to implement this system without any interruption to our current services."
Mar 8, 2023